The frenzy from falling oil prices has officially begun, fanning the flames of the crude oil export debate as oil proponents seek to preserve America's economic bright spot.
The Oil Price Plunge
In recent months, crude oil prices have fallen by more than 27 percent. The WTI crude oil price recently dropped to a three-year low shortly after Saudi Arabia cut prices for exports to the United States.
This geopolitical response began to usher in additional stress amongst oil traders, producers and economists over the depressed price of crude oil, and signs of a weakening global economy.
The day following the Saudi oil discount, an explosion occurred at a pipeline belonging to Saudi Aramco in Saudi Arabia, and the price of WTI also realized a $2 spike.
Last Thursday, however, oil prices fell below $75 a barrel for the first time in four years. On the same day, news broke that Halliburton was looking to acquire Baker Hughes, with claims that "talks between the two oil-field-services companies are moving quickly, and they could reach an agreement soon."
Although talks reportedly slowed over the weekend and a potentially hostile takeover seemed possible following a valuation disagreement, a mutually agreement was officially reached within days of the story breaking.
Following Thursday's sharp price, oil rebounded to $79 a barrel the very next day. Then, the International Energy Agency, which typically refrains from making predictions about oil prices, said in its monthly report that oil prices could fall further in 2015, and that pressure was mounting on OPEC to reduce oil output.
Some analysts are now predicting that crude oil prices are likely to fall to as low as $50 a barrel in 2015 – well below the estimated break-even point of shale oil producers.
Amidst the hysteria surrounding the depressed crude oil prices, however, production is still increasing across the top U.S. oil fields. In fact, the EIA recently reported some increasingly impressive oil output projections in December for the Eagle Ford, Bakken and Permian.
However, because shale wells typically have shorter life spans, quicker peak declines and require substantially higher capital investment, unconventional drilling is more vulnerable to oil price declines.
This vulnerability is forcing large producers to rethink their E&P budgets and near-term upstream capital investments.
Therefore, the current oil price volatility may pose a threat to the economic progress, output and stability of the industry over time as operators are forced to scale back their exploration activities.
Economic Impacts of the Shale Boom
Oil output in the United States recently climbed to the highest level our nation has witnessed in three decades. Moreover, oil and gas production has risen by 42 percent in the past seven years.
Today, the oil and natural gas industry contributes roughly $85 million every day to the federal government in income taxes, royalty payments, rents and bonus fees. This figure is expected to reach an estimated $138 billion in 2025.
The oil and gas industry has also emerged as the top job creating sector in the United States, offering weary job seekers higher paying wages and salaries across a variety of disciplines and skill levels.
In 2013, the average wages of oil and gas production jobs reached $108,000 – more than twice the national average for all private sector industries.
The oil and gas industry also achieved an employment growth of 40 percent from the beginning of 2007 through the end of 2012. During this same time-frame, however, total U.S. private sector employment rose by only one percent.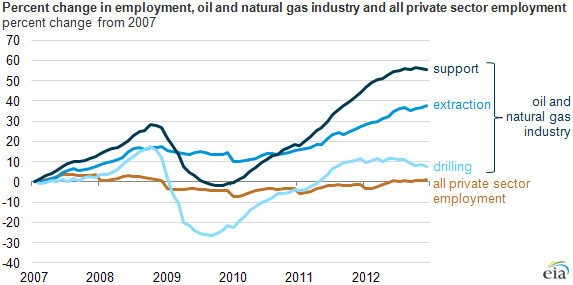 Furthermore, oil and gas extraction employment in September reached the highest level the U.S. has witnessed in over 28 years, dating back to July 1986.
There is also plenty of evidence to suggest that proximity to shale oil and gas production has contributed to regions with the highest level of upward income mobility in the United States.
Moreover, oil and gas production has also prevented several counties with shale oil and gas production from feeling the effects of the 2008 recession.
Furthermore, territories characterized by oil and gas development are also experiencing rapid job recovery, have some of the lowest unemployment rates in the U.S. and have rebounded from the recession more quickly compared to other regions.
The Road to U.S. Energy Independence
In March 2011, oil imports accounted for roughly 66 percent of the U.S. trade deficit. Thanks to booming shale oil production and our increased energy security, this figure fell just below 36 percent in July 2014.
Based on current output and supply projections, the now EIA predicts that oil imports could fall to little more than 20 percent by next year. This would not only be crucial to moving the United States closer to energy independence, but would likely become an economic milestone for our nation.
Fracking and horizontal drilling already helped the United States meet 89 percent of its energy needs in March – the highest level since April 1986.
Furthermore, the increased supply of oil and gas and anticipated improvements in fuel efficiency could help the United States export more energy than it imports by 2025.
The U.S. transportation fleet is expected to become 40 percent more energy efficient by 2030. As the transportation sector becomes more energy efficient and demand for transportation fuel begins to dip, the United States could actually become an energy independent nation, assuming that the current price volatility does not disrupt drilling, production and supply.
Consumer Reactions to Falling Oil Prices
While some producers are already scaling back their drilling efforts, looking to maximize production from minimal investment and avoid additional costs, consumers are excited about the relief they're feeling at the pumps.
The average retail price of gasoline in the United States recently reached the lowest level in nearly four years. If prices remain at present levels, the reduced pump prices could save American consumers and businesses the equivalent of an estimated $200 billion dollars annually.
For this reason, many analysts predict the increased discretionary income consumers have will be redistributed into the economy in the upcoming holiday shopping season.
Early reports indicate that retail sales in the United States are already rising ahead of Black Friday and Cyber Monday deals, since many retailers have already begun luring holiday shoppers in with deep, early discounts.
Because consumer spending accounts for roughly 70 percent of economic activity, some analysts speculate that the increased discretionary income and spending could spur economic development in other areas.
A Call for Crude Oil Exports
In July, a tanker carrying $40 million worth of condensate from Texas set sail for the shores of South Korea, marking the first unrestricted sale of unrefined American crude oil since the 1970s creation of the oil export embargo.
The sale occurred following a ruling by the Commerce Department that gave two Texas oil companies permission to start exporting condensate without first sending it through the traditional refining process.
This ruling has begun to alter the conversation of the crude oil export debate – which was instituted in an era when U.S. oil output was in steep decline – and the federal government's perceived willingness to enforce the 40 year-old embargo.
As a result, news broke in early November that BHP Billiton would begin selling Texas oil overseas without getting permission from the U.S. government, a bold move that seemingly invites federal prosecution.
Nevertheless, neither Congress nor the current administration have taken any action to crack down on BHP's plans to export an estimated $50 million worth of ultra-sweet crude oil from Texas to undisclosed, overseas buyers.
The U.S. Energy Information Administration recently released a study concluding that domestic oil prices, and thus gasoline prices, will not rise if the U.S. ban on crude oil exports is lifted, and that the U.S. would realize a boost in economic growth, wages, employment, trade and overall welfare.
Furthermore, their findings indicate that delaying or allowing only condensate exports lowers the potential gains by 60 percent with respect to a complete and immediate removal of the oil export embargo.
For the purposes of the crude oil export debate, it's important to also note that the United States has already reached the highest level of crude exports witnessed in 57 years as oil that had been moved north to Canada were re-exported to Switzerland, Spain, Italy and Singapore.
Furthermore, the United States is already exporting an unprecedentedly high amount of gasoline, diesel and other refined petroleum derived products onto the global market.
The vast economic implications of these exports, in conjunction with the promising economic opportunities that crude oil exports may provide to the United States, will likely remain a controversial political discussion point as we edge closer to the upcoming Presidential elections.
In the meantime, one can only wonder if we'll see other ambitious energy companies following the lead of BHP, how Congress and federal agencies react, and if the ban on crude oil exports is finally lifted.
Perhaps the increased oil price sensitivity of Halliburton and its heavy reliance on unconventional drilling is the reason why the company has negotiated a deal with a primary competitor.
Rather than allowing the market to determine their future, they are making an effort to ensure the prosperity of their company and its earnings.
In other words, they appear to be avoiding prolonged uncertainty and are making an effort to mitigate the current circumstances.
The housing bubble and subsequent 2008 financial crisis is a perfect example of how the low uncertainty avoidance index in the U.S. can impact the national and global economies.
The result? A disastrous 50 percent drop in the stock market, massive layoffs, diminished retirement funds, and average home prices falling to 30 percent their peak value in some markets.
This begs the questions:
Will the United States learn from its previous mistakes and take a more proactive step to help rectify the current oil price situation in a way that benefits both producers and consumers?
Crude Oil Exports, the Oil Price Drop and the Future Energy Outlook
In an era of slowing economic activity, the oil and gas industry generates roughly $1.2 trillion in annual gross product, is conceivably the most integrated sector with the U.S. economy and is arguably already preventing the pains of another recession.
Considering the industry's immense economic impact on shale, and the fact that many large organizations are already reporting negative earnings, the need to maintain economic incentives to drill and produce shale oil and gas is becoming an increasing reality.
Unconventional drilling, which requires substantially higher investment capital, has stimulated a production renaissance, created thousands of high-paying jobs and is already saving consumers billions of dollars every year.
Although many large oil and gas producers and oil field service companies have downplayed the impact falling crude oil prices have had on their business, perhaps the increased burdens of the depressed commodity prices are being realized by the news of Halliburton and Baker Hughes.
The need to preserve economically viable oil prices, lowered energy costs, increased tax revenues for local governments and an ample supply of oil and gas is becoming increasingly important to the debate surrounding crude oil exports.
It is still too soon to tell what will be the full effects the falling oil and gas prices will have on the U.S. shale revolution and economy, but perhaps now is the time to finally reverse the crude oil export ban to allow the U.S. to compete on the global market.
This could potentially offset geopolitical efforts that are threatening America's economic bright spot, and generate more stable crude oil prices that benefit both U.S. consumers and producers.
Your Turn
Is the reversal of the crude oil export ban the most pragmatic solution to stabilize the national and global economy and mitigate the uncertainty stemming from the depressed oil prices? Let us know your thoughts in the comments.
The following two tabs change content below.
Nathan Randazzo
Nathan Randazzo
is a technical writer who enjoys covering oil and gas industry news. Nathan achieved a Bachelors of Science in Advertising from the University of Texas at Austin and a Business Foundations Certificate from the McCombs School of Business. Nathan is a native Texan, multi-instrumentalist and outdoor enthusiast.
Latest posts by Nathan Randazzo (see all)